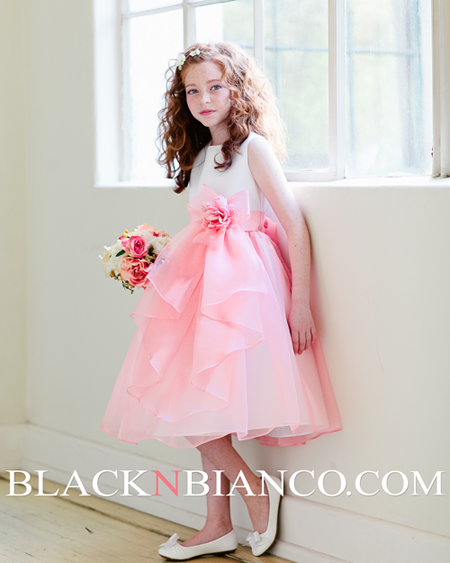 How To Measure a Flower Girl Dress
When your daughter has been selected to be the flower girl in a wedding, it is certainly a very exciting moment in her life. Little girls are usually thrilled at the prospect of wearing a fancy dress. While the bridal shop may carry a few samples for your daughter to try on, a flower girl dress is usually a custom order. Formal dresses can vary significantly from everyday clothing sizes, so it is important to measure your daughter to ensure that her dress will fit perfectly on the big day. This guide will lead you step by step through the process of measuring your little girl for her flower girl dress.
Step 1: Preparing to Measure
To measure your daughter, the most important thing that you will need is a soft tape measure. If you do not already own one, you can usually find them for a few dollars in the sewing section of a department or craft store. You will also want to have a pencil and paper handy to notate her measurements. Record the measurements accurately, without adding additional inches.
While you are taking her measurements, your daughter should only be wearing undergarments or form fitting garments, as wearing bulky or baggy clothes can skew your results. Make sure that she stands with good posture and breathes naturally without sucking her stomach in or holding her breath.
When you wrap the measuring tape around her body, it should be parallel to the floor. You will want to pull the tape comfortably snug, without leaving it hanging loose or digging it into her skin.
Step 2: Measure Her Chest
To measure your daughter's chest, wrap the measuring tape under her arms, allowing it to pass over her bust line. After you have placed the measuring tape, ask your little flower girl to lower her arms to her sides. Before recording the measurement, ensure that the tape is parallel to the floor.
Step 3: Measure Her Waist
When measuring your daughter's waist, you will want to select the largest point of her abdomen. If the dress is large enough to fit her widest point, then it will comfortably fit the rest of her stomach as well. If her stomach is evenly shaped, then you will measure at her belly button. Follow the same procedure as you did when measuring her chest - placing the tape on her abdomen, parallel to the floor, with your daughter's arms by her sides.
Step 4: Measure the Length of the Dress
Most flower girl dresses will indicate how many inches long the dress is. If you want to determine how long a specific dress will be on your daughter, hold the tape measure starting in the center of her shoulder and allow it to hang to the floor. Wherever the number of inches indicated on the size chart falls will show you what point on your daughter's leg the dress will hit. Nothing can be done to lengthen a flower girl dress, so you will want to pick a dress that is the perfect length or longer so that it can be hemmed as needed.
Step 5: Selecting the Correct Size
Compare your daughter's measurement to the size chart for the flower girl dress that you are ordering. Ideally, you should select a dress size that is an inch or two larger than her measurements, as this will give her room in case she has a growth spurt before the wedding. A dress that is a bit big can always be altered to fit better, but options are limited for dresses that are too small.