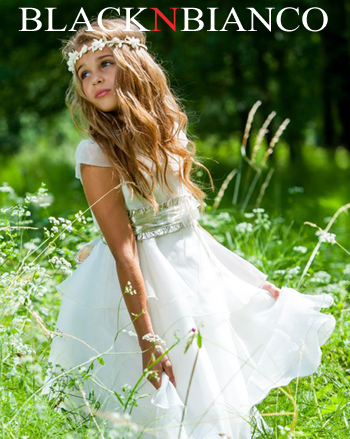 Be it traditional or modern, a wedding just doesn't seem complete without a flower girl preparing the bride's path down the aisle with a gentle toss of rose or other petals from a basket.
Although picking an appropriate dress for your flower girl isn't too complicated, you must give the task just as much attention as you did when picking out your own dress.
These tips on choosing the perfect flower girl dress can help you get started:
Prepare for the Search
It's imperative that you prepare for the dress hunt. Unless you plan to have your flower girl sit next to you as a reference the entire time you search online, which is an unlikely scenario if she is very young, finding the right dress requires that you make certain preparations.
Take a close-up picture of your flower girl's face, as well as a full body photograph. You can use these images as a reference to help you select dress styles that match her age, height, physical appearance and hair, eye and complexion coloring.

Keep a reminder list at hand of important details so you don't have to remember them off the top of your head, such as her dress size and fabrics she can't wear because of irritation. The list should also note the amount you would like to pay, including the maximum amount you are willing to pay if necessary.

Print out in color the images and pricing of the dresses you like the most. You can use the printouts to compare the dresses side-by-side to help you make the final selection before ordering.
Extra Tip: Your flower girl's dress also needs to match your wedding theme and decor. Use photos of the planned decorations for comparison, or look at color swatches and decorations as you search.
Things to Consider as You Shop
Safety and Comfort
Comfort is a big deal. You certainly wouldn't want your skin to itch or break out with a rash on your big day, or your dress to be so tight that you can't stand wearing it. The same is true for your flower girl. These tips on choosing the perfect flower girl dress can help keep her safe and comfortable the entire day.
Stick with a breathable quality fabric that she has previously worn with comfort, and select a fabric weight that corresponds with the seasonal temperatures to prevent her from being too hot or too cold.

Make certain that the dress isn't too tight a fit, as she will likely run around in it the entire day and an overly tight dress can cause breathing problems or exacerbate asthma, if applicable.

Go with "tea" dress length if your flower girl is very young, or prone to tripping, as a longer dress can drag the ground. Additionally, help prevent a fall by selecting matching shoes that are comfortable and feature rubber soles.
Extra Tip: If your wedding is in a warm interior venue during a cold season, or a warm exterior venue that's chilly at night, you can still go with a lightweight fabric or short-sleeve dress. Simply add a jacket to the ensemble that is easy to slip on or remove, as needed.
Style and Appearance
A wide variety of traditional and modern flower girl dress designs exist. When picking a style, remember these tips on choosing the perfect flower girl dress to strike a balance between her dress and your wedding theme.
Select a fabric that won't wrinkle, tear or stain, as these issues are last minute hair-pulling hassles. Don't select silk, as it meets all of these criteria and is expensive. Instead, focus on durable, inexpensive materials woven from blended fibers of other fabrics, such as satin.

Avoid extreme designs and severe color or pattern contrasts. You don't want the dress to clash so much in style, color or design that it distracts everyone from your dress or the decor.

If you want your her stand out, don't give up on traditional designs. You can accent a traditional dress with an accessory -- glossy ribbon belt, colorful flower hair clip or sparkling tiara -- that makes the dress stand out in a positive way.
Extra Tip: The "mini bride" look is adorable and allows your flower girl to feel like she's you. Yet, an exact replica can cause a safety or comfort problem, and takes eyes off the grandeur of your dress. Pick different hair accessories or a custom dress that features elements from your own, such as similar colors or embroidered patterns.
Although these tips on choosing the perfect flower girl dress can't help you make the final decision, they can help you narrow down your options and make the selection easier. They can also help relieve stress so that your big day is a much more relaxed occasion.

Click here for more: Flower Girl and Wedding Tips